TimeTackle Manual - Export Google Calendar
Hello! Thank you for using TimeTackle. TimeTackle lets you easily and securely Export your Google Calendar to Excel and other formats. In this manual, we will see how to use TimeTackle to efficiently export your Google Calendar.
Getting Started
Login to TimeTackle
Go to https://www.timetackle.com in your web browser and click the green button to login. It will ask you to login using your Google Account. We use the latest Google API with OAuth2.0 which is the most popular and secured authentication mechanism available. The login happens in Google website, TimeTackle has no access to your password.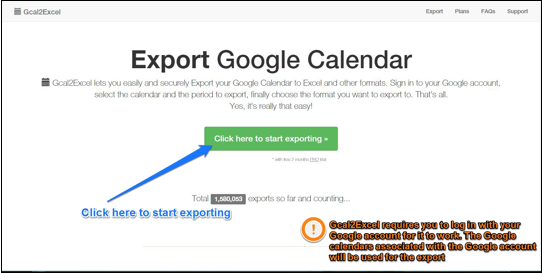 As part of the login you will be asked to provide TimeTackle some permissions. TimeTackle requires access to your Google calendars, your public profile information and your email address. It can not access anything else (like your emails or documents). Click Allow to log in to the app.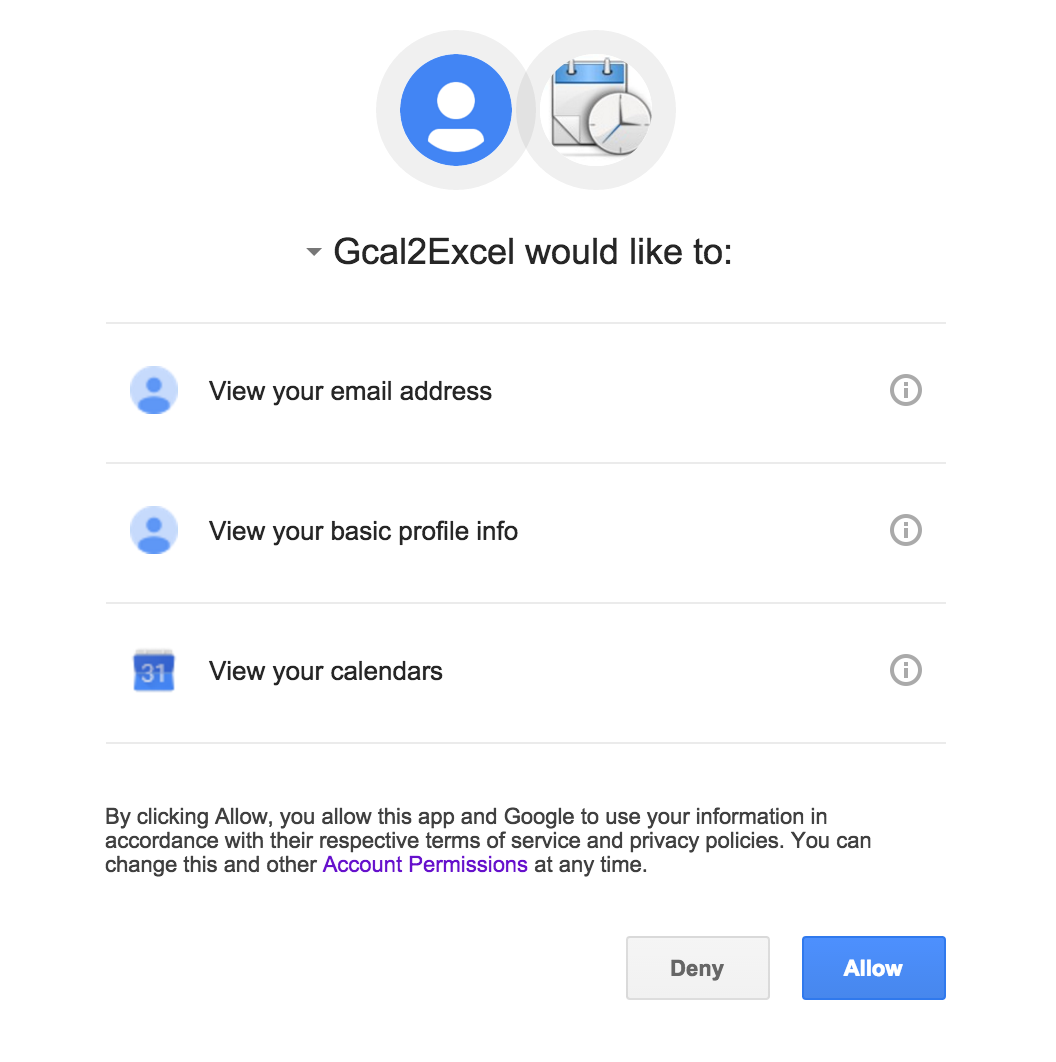 The Side Menu
After you've logged in you'll be redirected to the main Exporter tab which looks like this: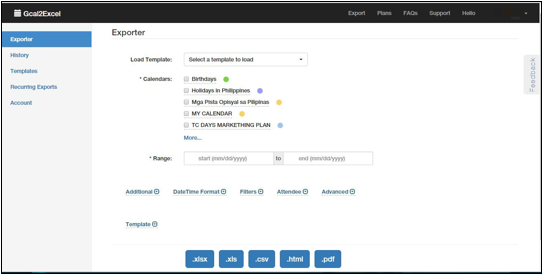 Notice at the left side you can see a menu with the different tabs of the TimeTackle website. This is the side menu. Currently the Exporter tab is selected. Let's take a quick look on the side menu.
Exporter: This is the main tab where you are able to export the various Google Calendars that you currently have.
History: In this tab you can see the history of your Exports. Access previously exported calendars here.
Templates: Manage your saved templates here. You can choose to save the preferences that you've made for a Google Calendar export in a template. This allows you to use those settings in a future Google Calendar export- pretty nifty stuff and saves you time. Templates will be discussed further in the How to Use Templates.
Recurring Exports: Access Recurring Exports when you click on this tab. Recurring Exports allow you to schedule and automatically export google calendar/s using a pre-defined template periodically. Recurring Exports will be discussed further in How to Use Recurring Export
Account: Manage your TimeTackle account here.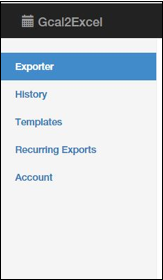 How To Use The Exporter
The Exporter Tab
The exporter tab is where you will primarily export your Google Calendar/s. You can choose the Google calendar/s that you would like to export in this tab. The various settings and preferences you would like in your exported calendar are also found here. You can access it by clicking on the "Exporter" on the Side Menu. The Exporter Tab looks like this: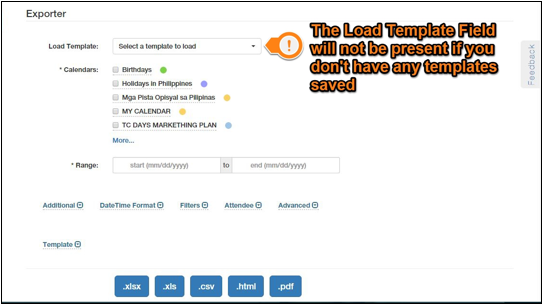 Choose the Google Calendar/s to Export
First select which google calendars you would like to be exported. At the top you can see a list of your Google Calendars. You can have more than one Google Calendar to be exported.

Specify The Range
After selecting which Google Calendar/s to export you can specify the start date and end date of the exported Google Calendar/s. This is what determines the period of the calendar/s to be exported. Leave it blank if you want to export the entire calendar.
When you click on the start and end field of the Range a date selector will drop down. Use this to easily select the start and end dates. You can also opt to type the dates manually.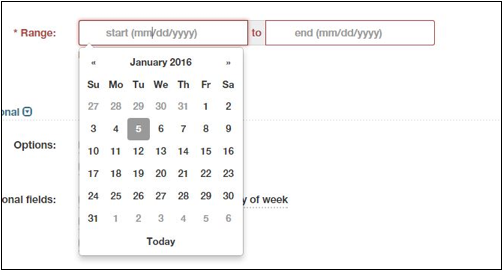 I want to export events that will fall between January 5, 2016 and July 31, 2016 so I've set the start and end dates as such:

Finally Export
Right now you are able to export your Google Calendar/s without any more tweaking with the other Exporter options. Simply press any of these buttons that correspond to the file format of the exported Google Calendar/s and you are good to go:
Once you've clicked on your corresponding file format, the website will process your Google Calendar/s for export. Please wait. Once done you will be presented with this window:

You can choose to download it, save it to your Google Drive or Dropbox accounts, and mail it to a number of email addresses.
Adavanced Options
Maybe you want to have more control on the format and date to be exported of our Google Calendar/s. In the Exporter pae you can set some additional options before you export your calendars.

Each option can be expanded to access more fields in it. Simply click on the downward arrow beside each one. Click on it again to collapse it.
Additional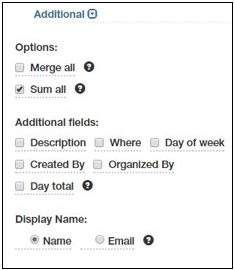 Merge all: check this box if you want to merge events from selected calendars into a single worksheet.
Merge all: check this box if you want to merge events from selected calendars into a single worksheet.
Additional fields: check the fields that you want to be exported into your calendar here.
Display Name: In you exported Google Calendar/s here are fields such as: "Created By:", "Organized By:", "Attendees", and "Email". If your person is displayed in these fields you have the option of having your Full name OR Email Address exported in these fields.
Date Time Format
Format: Specify the Date/Time format of the exported calendar/s here.
Date Separator: Choose what date separator to use. It changes the separator used in Format field.
Clock Style: Specify what clock style format (AM/PM or 24 Hours) you would like here.
Duration: Choose duration format. It can be:
Separate Date and Time: Check this box if you want to put date and time into separate columns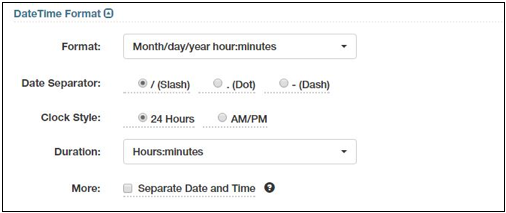 Filters

All-day Filter:
All day Events only – checking this option will only let events that last one whole day be exported.
Exclude All-day Events- checking this field will exclude all day events from being exported.
Search Filter: Events with the search keywords typed in the text box will be the only event included in the export. As an example, say I want to export all events that contain the word "HR Work". Then, I will have to put "HR Work" in Search Filter field.
Attendee

Attendee fields: Check what attendees you would like to be included in the exported calendar/s.
Attendee filters: Specify if you want to exclude the organizer or resource in the exported calendar/s.
Advanced

Timezone: Choose what time zone to use in this dropdown menu.