How to Export Google Calendar to Excel
In this article we will be teaching you how you can easily export your google calendar into various formats using TimeTackle.
What is a Google Calendar
Here's the deal- want to keep track of your life; you want to manage your events, special dates and plan your day to day activities but don't want to burden yourself with the of use physical calendars and notes.
You want a simple and robust planning software where you can access and plan for your events and appointments anywhere and share them with your friends and colleagues with the touch of a button. What you need is a Google Calendar.
Google Calendar is a time-management web application and mobile app created by Google. It allows you to create planners called Google Calendars easily and intuitively. In a google calendar you can input your different events and plans and have the option to get a notification about them. Anyone who would like to plan their life electronically should look at Google Calendar.
If you have a google account you can easily use Google Calendar to manage your life. Simply access the application via the web at this site or download it at Google Play or the App Store.
Why would you want to Export your Google calendar using Gcal2Exel?
You can easily view your Google Calendars online on their site or mobile via their app but what if you want to easily share you Google Calendars at other people?
You can export your Google calendar to keep a copy for yourself or to give out to people.
Freelancers use Google Calendar to create timesheets from google calendar, some people use it to manage different contractors; Executive Assistants use it to keep track of their boss's time. A google calendar could be exported to keep as a copy for yourself or to easily share it with the people you collaborate with.
Just export your google Calendar using Gcal2Exel into the format that you want and give it out to your collaborators or keep it as a copy for yourself to easily manage your contractors
How to Export a Google Calendar using Gcal2Exel
You've already created your Google Calendar and you want to export it so that you have a copy for yourself to use or share. One website that does the work for you is TimeTackle. There is No installation required, no hassle!
Here's what you'll see when you enter the site: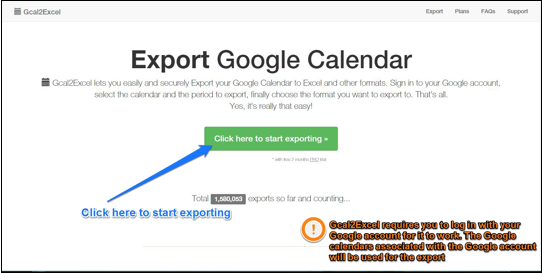 TimeTackle can export your Google Calendar or Calendars (You can export more than one at a time) into various formats: XLSX, XLS (Microsoft Excel); CSV, HTML, and PDF. Simply follow these steps:
If you haven't already, login using your Google account
Choose the Google Calendar/s you wish to export
Specify the time range (start date and end date)
Click the file format you want your Google Calendar/s to be exported in
After a short while of processing a pop up should show appear prompting you to download your exported Google Calendar/s. Congratulations! You've just exported your google calendar.

What more you can do with the Google Calendar Export feature of Gcal2Exel.
Gcal2Exel is a very powerful Google Calendar Export tool.
When exporting your Google Calendar, you have the ability to access the various options in exporting your google calendar which changes its format and fields.
You can save your settings in a template so you can use it in a future Google Calendar Export.
Gcal2Exel has a feature called recurring exports where you can schedule Google Calendar exports that automatically gets sent unto your Gmail inbox periodically.